Services Offered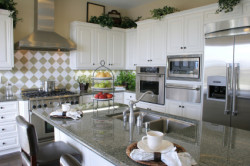 Today you need appliance repair. Tomorrow it could be air conditioning service or furnace repairs. Wouldn't it be a lot easier to call one company instead of two or three? Now you can, thanks to the proven pros at L & G Appliance Repair & Heat. It's hard enough to find professional technicians who are courteous and trustful. But finding one team of specialists who can cover all of your home maintenance from appliance repairs to air conditioning repair to furnace repair service. That's a convenience too good to miss!
AC, Appliance & Furnace Repairs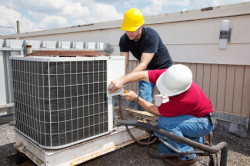 Since 1984, L & G Appliance Repair & Heat has been a tremendous help to homeowners throughout the Aurora region. We're a family-owned company, and we know what a pain it can be when the dishwasher is not draining or the garbage disposal leaks. By specializing in an essential mix of services under your roof, we take the hassle out of gas furnace repair, dryer appliance repair, and so much more. We're even EPA certified for refrigeration repair, and we work on all makes and models of equipment from Amana to Maytag to Whirlpool.
Save time and money with our all-inclusive approach to your appliance repair service needs. We offer affordable rates and extensive expertise for:
Refrigerators
Ice makers
Ovens and stoves
Dishwashers
Washing machines
Clothes dryers
Oil and gas furnaces
Central and wall air conditioners
Evaporative coolers
Garbage disposals
Built-in microwaves
Even appliance installation!
 At L & G Appliance Repair & Heat, you can expect timely attention to both mainstream and high-end brands, as well as to smaller appliances, including built-in microwaves and garbage disposals. Our air conditioning contractors are also available to work on evaporative coolers, also known as swamp coolers. We want your home to be comfortable and efficient, whether that means central air conditioner repair or furnace repair service.
One Call Does It All!
Are you ready to simplify the way you get your AC, appliance, and furnace services? If so, stick with the team at L & G Appliance Repair & Heat. One call to our company gets you first-class workmanship, protective warranties, and dedicated professionals who are fully licensed, bonded, and insured. As an added bonus, we'll waive your service charge just for letting us carry out your appliance repair.
So call or e-mail the Aurora-area provider that has more than 30 years of experience and is a two-time winner of Angie's List Super Service Awards. We're L & G Appliance Repair & Heat, and we look forward to working with you!