Air Conditioning Repair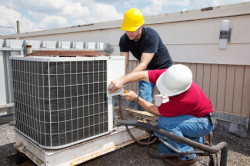 With L & G Appliance Repair & Heat, air conditioner repair is no sweat. Whether you rely on central air or a wall unit to cool your home, you can count on our air conditioning contractors for quality workmanship, quick response, and of course, low prices. We also offer air conditioning service for evaporative coolers, or swamp coolers. Whatever type of cooling equipment you have, we're the air conditioning contractor to call on for all your residential repairs. Reach us via phone or e-mail now!
Wherever you reside in the Aurora area, it's easy to benefit from the tried-and-true know-how of our air conditioner repair pros. Simply contact L & G Appliance Repair & Heat at the first sign of a problem with your air conditioning system or swamp cooler. Offering both routine and emergency appointments, we're here when you need us for accurate answers to your air conditioner repair problems. We'll apply our 30+ years of experience to the task, and come up with an energy-efficient solution for your air conditioning service.
As a full-service air conditioning repair company, we can help with all sorts of system defects and deficiencies. Call us today for complete assistance with:
Leaks
Insufficient cooling
Excessive cycling
Increased noise
Start-up troubles
Uneven temperatures
And more!
At L & G Appliance Repair & Heat, we work hard to maintain our high rating from the BBB. That means you don't have to worry about the caliber or competence of our air conditioning contractors. You can rest assured you're getting nothing but the best from our team. If you're feeling the heat of an impaired AC system, we'll make every effort to get to your home fast and get your air conditioning repair service over and done. With any luck, we can even provide preventive maintenance along the way, saving you the hassle and expense of bigger air conditioning services in the future. 
Air Conditioner Repair for All Brands
Part appliance repair specialist, part air conditioning contractor, L & G Appliance Repair & Heat is your resource for a whole host of services around the house. In the Aurora area, we're proud to be a preferred air conditioner repair provider for homeowners from Boulder to Denver to Littleton. Regardless of what brand or type of AC system you own, we have the precision and prices to bring your home much-needed relief. The next time you need air conditioning repair service, don't think twice: One call to us and your problems could be solved!
Need an evening appointment for your air conditioning repair service? Just call. We're open until 8 p.m. Monday through Friday for your convenience!
Air Conditioning Installation
If it turns out that your old AC unit is worn out beyond repair, you'll need to replace it. But don't worry if the prospect of an air conditioning install seems overwhelming. Just call the pros at L & G Appliance Repair & Heat for new air conditioning installation! Our team of expert technicians are extremely talented at installing air conditioning units, regardless of the make or model. If you've purchased a new unit and want to ensure long-lasting, energy-efficient performance, we're one of the best air conditioning companies you could ask for. Call now to schedule an appointment for air conditioning installation!
air conditioning repair service
air conditioning service
air conditioning repairs