Dishwasher Repair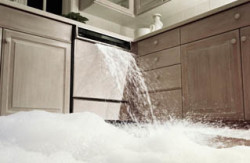 Just because your trusty dishwasher is no longer operating up to par, that's no reason to run out and buy a whole new unit. With dishwasher repair service from L & G Appliance Repair & Heat, you can restore the convenience and efficiency of your ailing dishwasher without having to fork over a ridiculous sum of money. Since 1984, we've been providing dishwasher repairs for homeowners all around the Aurora area. Now, we're ready to help you, too, with reliable and reasonable dishwasher maintenance from our knowledgeable technicians. Return your appliance to peak performance: Contact us now for dishwashers repair!
As a family-owned company, L & G Appliance Repair & Heat is well aware of what a hassle it is to have a broken dishwasher. While automatic dishwashing is not a kitchen necessity, it's definitely a perk! Why make your cooking cleanup harder than it has to be? If you're stuck at the sink washing dishes by hand, don't hesitate to get in touch with our dishwasher repair specialists. Whether you need GE dishwasher repair, Bosch dishwasher repair, or any other brand of dishwasher repair service, we're just a phone call away to help.
Put our three decades of experience to work for you. We're licensed, bonded, and insured to help with a wide range of dishwasher repairs, including:
Leaks
Draining issues
Filling defects
Start-up problems
Persistent odors
And more!
After 30 years in the business, we know for a fact that dishwasher repair service is much more economical than purchasing another appliance. In the vast majority of cases, we can resolve your dishwashers repair matter just by replacing a worn-out part. Feel free to contact L & G Appliance Repair & Heat at the first sign of any dishwasher repair issues. We're happy to take on jobs of all types and sizes, so you can depend on us whether your dishwasher is not draining or you need dishwasher rack repair.
Lasting Dishwasher Repair Service
Like all of our appliance and HVAC services, our dishwasher repairs are backed by fantastic parts and labor warranties. When you're making the choice between dishwasher repair or dishwasher replacement, those are important benefits to consider. L & G Appliance Repair & Heat wants you to be as confident in our top-quality parts and workmanship as we are. By extending these great warranties, we're helping you opt for our economical dishwasher repair service, and extend the life of the appliance you already own.
Of course, the same great warranty coverage applies to your dishwasher installation services. To find out more about our dishwasher repair and installation options for your Aurora-area home, call or click today!
Dishwasher Rack Repair
Dishwasher Repair Service
Dishwasher Repairs