Garbage Disposal Repair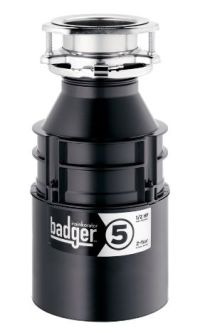 It's easy to see why so many kitchens these days are equipped with garbage disposals. Mealtime cleanup is a breeze when you can grind up leftover food scraps and eliminate smelly odors in your trash bin. Occasionally, though, your sink garbage disposal stops working correctly, leading to leaks, clogs, and other temporary setbacks. If you're missing out on the everyday kitchen convenience you've come to expect, contact L & G Appliance Repair & Heat for efficient garbage disposal repair. We're right down the road in Aurora, and we offer great rates on garbage disposer repair services. In fact, we waive your service call fee when you hire us to complete your garbage disposals repair. Call us today to learn more!
With all the activity at your kitchen sink, it's no wonder garbage disposal problems occur every so often. At L & G Appliance Repair & Heat, we've encountered numerous garbage disposal repair issues over the last 30 years, ranging from clogged garbage disposals to garbage disposal leaking problems. Whatever type of trouble you're having in your home, we'd be happy to assist with your garbage disposal service. Rather than putting your fingers at risk, why not use them to dial our garbage disposer repair specialists?
Be safe, not sorry: Come to us for all of your household garbage disposal problems, including: 
Clogging
Leaks
Power overloads
Inadequate grinding
Odors
Unusual noises
And more!
Whether you're noticing garbage disposal leaks or something lodged in the disposer, there's not necessarily a need to replace your entire unit. L & G Appliance Repair & Heat can fix your garbage disposer repair issues, saving you a trip to the store and extra expenses. Of course, if garbage disposal repair is not enough to correct the damage to your appliance, you can also depend on our garbage disposal service pros for flawless installation. Our licensed, bonded, and insured technicians are some of the finest you'll find in all of Aurora!
Fast Service for Sink Garbage Disposal Repair
When you flip that switch to turn on your sink garbage disposal, you want to be certain it's hooked up right and working properly. So do we. Mishaps can be easily avoided by calling our garbage disposal service pros. After three decades of helping homeowners, we know exactly how to repair a garbage disposal leak or stubborn clog.
Rethink trying to handle your garbage disposal service on your own. Call our trained professionals today! For more information on our garbage disposal repair, you can reach us over the phone or online.
garbage disposal repairs
repair garbage disposer
repair garbage disposal