Oven Repair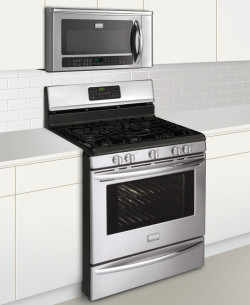 Oven and stove deficiencies can ruin a lot of recipes. But they don't have to mess up your menus for long. If you're tired of having to eat out or order in because your household cooking appliances are malfunctioning, let L & G Appliance Repair & Heat serve up the perfect solution to your oven repair needs. Locally owned and operated, we offer family-friendly prices on stove repair for Aurora-area homeowners, along with quick, effective outcomes. Instead of calling for takeout again, call for our oven repair expertise. We'll even waive the service call charge when you rely on us to repair oven, range, or stove appliances. Give us a call now!
When faulty equipment is the only thing standing between you and delicious meals the whole family can enjoy, it's time to dial the oven repair specialists at L & G Appliance Repair & Heat. We're available for both gas or electric oven repair service on virtually any brand of cooking appliance, so whether you require GE stove repair or Whirlpool range repair, our pros have the tools and training to help. Whipping up dishes at home is much more nutritious and cost-effective than buying prepared foods: Call or e-mail us today for oven repair services good for your wallet and your waistline!
Don't let appliance malfunctions get in the way of your home cooking. L & G Appliance Repair & Heat can put an end to your oven and stove repair problems, including:
Lack of heat
Poor heat distribution
Doors that won't close
Excessive heating
Defective burners
Visible sparking
Self-cleaning issues
Broken timers and dials
And more!
While some people might try to repair oven appliances on their own, that can be a risky venture for saving a few dollars. It's always safer to avoid possible gas leaks and fire hazards by depending on the qualified technicians at L & G Appliance Repair & Heat. Our 30+ years of stove repair experience can come in very handy when working with faulty heating elements or malfunctioning pilot lights! What's more, we keep our prices low, so you can protect your finances as you prevent potential accidents.
We Install & Repair Oven Appliances
On the off chance your cooking appliance is too far gone for oven repair, you can still save money with L & G Appliance Repair & Heat thanks to our great rates and service on oven installation. When you want to be sure your new unit will function at an optimal level, our stove repair technicians can tackle every step of your installation with complete precision. We've worked on countless residential ovens during our long career in the appliance industry, making us the ideal team for your range repair or your range installation. And let's not forget our terrific parts and labor warranties! They're your added layer of security for whatever type of oven repair service you happen to need.
Need emergency stove repair service for your Aurora-area home? We can help with that, too. Call us right away for safe, thorough answers!
Oven Repair Service
Range Repair
Electric Oven Repair