Refrigerator Repair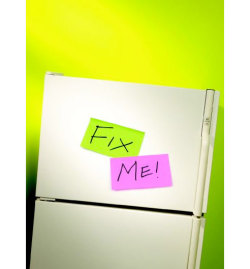 Of all the appliances in your household, none work harder than the fridge. Cycling on and off around the clock to protect your food, this is one appliance that's likely to require a replacement part or professional adjustment every now and again. Fortunately, L & G Appliance Repair & Heat is EPA certified and highly skilled in refrigerator repair work of all kinds. If you're looking for technicians well versed in fixing a variety of refrigeration repair problems, look no further than our Aurora-area company. We specialize in residential refrigerator repairs. Call us today for an appointment!
Obviously, speed is an major factor when it comes to refrigeration repair service. The longer your fridge is out of order, the greater your risk of food going bad. That's why our refrigerator repair pros make every effort to deliver swift, effective solutions for you and your family. At L & G Appliance Repair & Heat, we really do care about saving you money, not only on our refrigerator repair service, but also through safeguarding your expensive groceries.
If you're noticing signs of a malfunctioning fridge, don't wait. Contact us now for expert assistance with your refrigerator repair issues, including:
Improper cooling
Leaks
Frost buildup
Odd noises
Cycling problems
Ice maker defects
Lighting troubles
And more!
By relying on the licensed, bonded, and insured technicians from L & G Appliance Repair & Heat, you could be adding years to the life of your fridge. No refrigerator repair manual can even begin to cover the extensive knowledge we've gained in our 30+ years of hands-on experience, so forget about DIY fridge fixes and rely on our professional expertise. Regardless of brand name or fridge model, we'll diagnose the damage in next to no time, and get right to work on the refrigerators repair plan that's best for you. From GE refrigerator repair to Maytag refrigerator repair, we're here to help!
Prompt, Low-Cost Refrigeration Repairs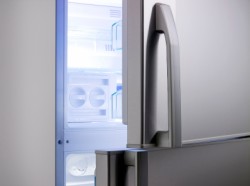 These days, manufacturers are designing refrigerators with all sorts of fancy features. Isn't it nice to know you can count on one refrigerator repair company any time your ice maker stops working or your temperature control goes haywire? We're L & G Appliance Repair & Heat, and we want to be your go-to team for refrigeration repair matters big or small. Call to set up your routine or emergency refridgerator repair service, and don't forget to ask about our great warranties on parts and labor. They offer extra protection for the hardest working appliance in your Aurora-area household.
We even waive the service call fee when you use L & G Appliance Repair & Heat for your refrigerator repairs. Call us for details today!
Refrigeration Repair
Refridgerator Repair
Refrigerators Repair