Washing Machine Repair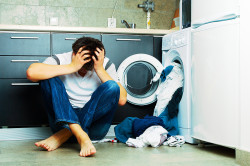 In today's hectic households, washing machines are put to the test day in and day out. Given the rigorous demands we place on them, it's no wonder our residential washers break down from time to time. When your laundry is piling up due to a damaged washer, depend on the local team with more than 30 years of experience in the washing machine repair business. In Aurora and nearby areas, the only name you need to remember for washer machine repair service is L & G Appliance Repair & Heat. Contact us now!
If you appreciate the convenience of having laundry facilities at home, then you're going to love the timely turnarounds and honest prices at L & G Appliance Repair & Heat. Not only are we experts at diagnosing and performing washing machine repairs, but we're also licensed, bonded, and insured. Getting your washer back in tip-top shape is our number-one priority on every job. You can turn to us whether you need Whirlpool repair service, GE washer repair, or laundry machine repair for any other major appliance manufacturer.
Experience goes a long way in getting your dysfunctional washer back to proper working condition. Luckily, our talented technicians have the know-how to repair washing machine issues of all kinds, including:
Leaks
No spinning
Inadequate filling
Not turning on
Abnormal noises
No draining
Cycling problems
Insufficient cleaning
And more!
Sure, there's a lot that can go wrong with your washer. Nevertheless, by trusting in the skilled professionals at L & G Appliance Repair & Heat, you can ensure the right approach to your washing machine repair services. We have the mastery and attention to detail that can only come from decades of hands-on training in the field. Couple that with our down-to-earth prices and prompt assistance, and you have the winning pick for pretty much any washer machine repair worries affecting you and your busy family. 
Washer Repair Saves You Money
Why go to the expense of buying a fancy new washing machine? More often than not, L & G Appliance Repair & Heat can fix your existing washer for a fraction of what you would spend at the retail store. You'd be surprised how changing out parts or dealing with minor washing machine repairs can prolong the life of your appliance. So don't throw in the towel on your unit just yet: Call us today to repair washing machine makes and models of all kinds in Aurora and the surrounding area. We really can help you save!
First-time customers save even more on our washing machine repair services. Call now, and make sure to ask about our great discounts and warranties!
Washing Machine Repairs
Washer Repair
Washing Machines Repairs